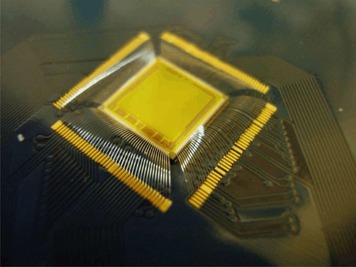 A bonded PImMS 1 chip
PImMS 1
The sensor:
The first prototype sensor has 72×72 pixels (70×70um2). Within each pixel, charge is collected by 4 diodes. These diodes are each centred in an area of 14.5×14.25um2 giving a fill factor of 16.9%. Once the signal level has reached a certain threshold an event is detected and a time stamp is stored in one of four available 12-bit registers. All pixels can be individually trimmed to improve noise performance.
The PImMS sensor is capable of operating with a time precision of 12.5ns. This corresponds to a frame rate of 80Mfps with a conventional camera. At this resolution, and with the 12-bit memory registers the sensor can record continuously for over 50us.
Click here for a datasheet on the current PImMS sensors.
The camera:
Data is transferred via USB to a PC where it is saved and analysed using software written in LabVIEW. The camera is capable of running 500 frames (experiments) per second.